Looking for a unique stay in the heart of the Berkshires? Planning a family getaway and in need of a beachfront cottage in Cape Cod? Whether you're dreaming of a week in the woods or a few days in the foliage, these Massachusetts cabin rentals will satisfy your every desire!
The capital of New England, Massachusetts may appear to be an unassuming state home only to the metropolitan city of Boston. But this small commonwealth is full of natural beauty, from mountain ranges to beaches! It's no wonder then that you'll find so many unique cottage rentals in MA that are ideal for romantic retreats and family vacations alike.
There's lots to see and do from the beautiful Berkshires to the west and the iconic Cape Cod to the East. In between, you'll find picturesque towns reminiscent of colonial times and proud of their heritage in the American Revolution! The best way to experience the area is to find a new home in one of these fantastic cabin rentals in Massachusetts.
The Coolest Cabins in MA: Top Cabins, Chalets + Cottage Rentals in 2022
Here are the best cabins in Mass by category, considering factors including amenities, trip types, and budgets. The subsequent sections will cover each listing in more detail.
Top Cabin in Massachusetts: Classic A-Frame Cabin in MA
Best Luxury Cabin Rental MA: Waterfront Cottage in Rockport
Top Romantic Cabin in Massachusetts: Cute Cottage on the Beach
Best MA Cottage for Large Groups: Yarmouth Beach Cabin
Top Cheap VRBO Cabin in Massachusetts: Tiny House Cottage Rental in MA
Best Mountain Cabin in MA: Log Cabin in the Berkshires
Coolest Massachusetts Cabin Rental in the Woods:
Best MA Cabin with a View: Marshfield Beachfront Cottage to Rent
Most Unique Cabin Rental in Massachusetts: Historic Schoolhouse Cottage
10 of the Best Cabin Rentals in Massachusetts
Here, we've compiled a list of the best cabin rentals in Massachusetts for any taste. Gorgeous scenery, great amenities, and excellent locations make for the best of the bunch! Read on to find your next dream destination in the Bay State. From west to east, mountain to sea, let's go!
1. Historical Cottage in the Heart of the Berkshires
Location: Lanesborough, Massachusetts
Rates from: $180 per night
Accommodates: 6 guests
Dive right into the history of Massachusetts with a stay in this unique cottage! Built almost 200 years ago as a schoolhouse, this is now one of the most interesting places to stay in Massachusetts. Outfitted with antiques to retain its charm (but still with modern amenities such as air conditioning and a smart TV), this cozy place is optimal for as many as 6 guests, and is available to rent all year round!
As if the rustic appeal of this cottage wasn't enough to draw in any visitor, it's also in an ideal location nestled in the Berkshires! It's situated on the road to Mount Greylock, the highest peak in Massachusetts. Just a short drive away is the Jiminy Peak ski resort for winter sports lovers, or the adorable town of Adams, home to the MassMoCA museum of contemporary art. This is definitely one of the best cabin rentals in Massachusetts!
2. Peaceful A-Frame on the Water
Location: Stockbridge, Massachusetts
Rates from: $195 per night
Accommodates: 6 guests
A classic New England A-frame, this cozy cabin is bound to be a family favorite! The highlight of this stay is its private dock – which comes with 2 kayaks and a canoe. Look no further than this gem for all of your rest and relaxation needs. What could be more peaceful than canoeing to a yoga studio? If you tire of the water, there's plenty of hiking and exploring to be done nearby. Perfect for when you need a break to unplug for a bit.
The cabin sleeps 6 guests in 2 bedrooms, with enough room to spread out throughout two floors including a kitchen, living area, loft, and deck! Heating and air conditioning mean that you can enjoy this stay any time of year. After all, Massachusetts is known for its seasons! If you're looking for the best cabin rentals to relax and have fun, you can't do much better than this authentic spot.
3. The Best View of the Berkshires – One of the Most Unique Cabin Rentals in Massachusetts
Location: Monterey, Massachusetts
Rates from: $280 per night
Accommodates: 8 guests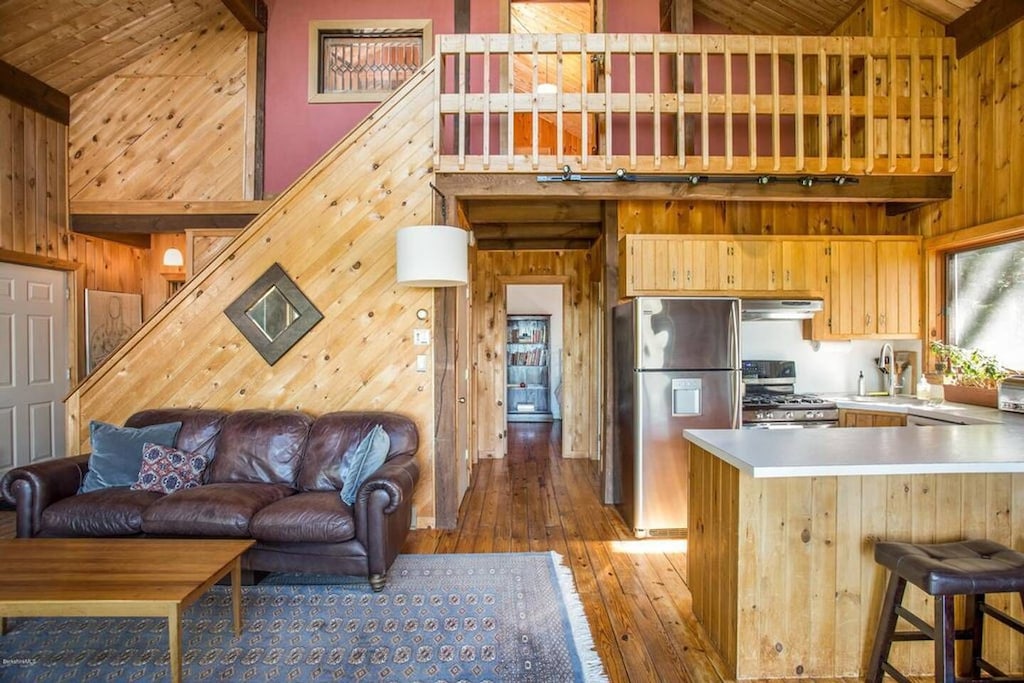 Looking into a trip to the Berkshires? You're probably envisioning the gorgeous scenery of mountains and lakes this region of Massachusetts is famous for. To truly appreciate the beauty, stay in this cabin with an unbeatable view of the surrounding area. From here, you'll see miles of lake, forest, and mountains. Plus, it's perfectly situated for incredible sunsets! It's no wonder guests describe the view as 'magical.' Oh, and that lake you can see? Access for swimming and kayaking is included!
The cabin's interior is modern and spacious, perfect for any group or family. Parents will especially appreciate the private master suite that encompasses the entire loft. The main level, with two bedrooms and a bathroom, leads out to a deck. Here you can grill, dine, or relax on the lounge chairs.
4. Best Pet-Friendly Place in the Berkshires
Location: Hampshire County, Massachusetts
Rates from: $264 per night
Accommodates: 6 guests
Another Berkshires beauty, this cabin rental is perfect for all guests – including the furry, four-legged ones! Deep in the woods, but still centrally located, this rustic retreat is definitely a top pick for families. It's got enough space for the whole clan, including two bedrooms and a screened-in porch. There's also a deck with patio furniture and a grill, and a campfire pit outside great for S'mores! Though you might not want to leave this cozy cabin, if you do you'll find yourself in a private community with a nine-hole golf course and more.
Spend your days on the water, just a short walk away. Everything from towels to life jackets and a paddle boat are provided, so all you need is your bathing suit! Once the whole family's tuckered out, you can come back to wind down. You'll feel at home surrounded by the classic New England charm in every corner. But both bedrooms have flatscreen TVs, if the kids need a break from the rustic feel.
5. Cozy Cabin in Central Massachusetts
Location: Westford, Massachusetts
Rates from: $250 per night
Accommodates: 6 guests
With the mountains on one side and the coast on the other, many visitors overlook Central Massachusetts. But this region is also home to charming cabins and cottage rentals. Check out this cottage rental, situated in the private Summer Village resort community. This comes with so many benefits! Swim on the beach or rent a kayak. Relax in one of two pools or the hot tub. Get some exercise on the basketball and tennis courts, or the indoor gym. And when you don't feel like cooking, head to the community bar and restaurant!
The cottage sleeps up to 6 guests and includes an outdoor patio area. Its location is also a benefit. This retreat is the best of both worlds, with a peaceful break but still close to the city. It's an easy drive from Boston, and close to historical Lowell.
6. Lovely Lake House in the Best of Massachusetts
Location: Wrentham, Massachusetts
Rates from: $495 per night
Accommodates: 7 guests
This beautiful lakefront cottage rental boasts a huge and unique space. Where else can you find a modern cabin rental in Massachusetts with two dining areas in addition to a coffee and ice cream bar? Add a whopping four fireplaces, an outdoor shower, and tons of other unique amenities. What more could you ask for?
But despite the amazing interior, the best part of this stay might be its location. It's a lakefront cabin perfect for relaxing and family vacation – but just a short drive from some of the most popular spots in Massachusetts. Go shopping at the Wrentham Outlets, catch a Patriots game or a concert at Gillette Stadium, or take a day trip to Boston! This is perfect for anyone looking to get into nature, without sacrificing the city.
7. Luxury on the Water in Rockport – A Top MA Cabin Rental
Location: Rockport, Massachusetts
Rates from: $343 per night
Accommodates: 6 guests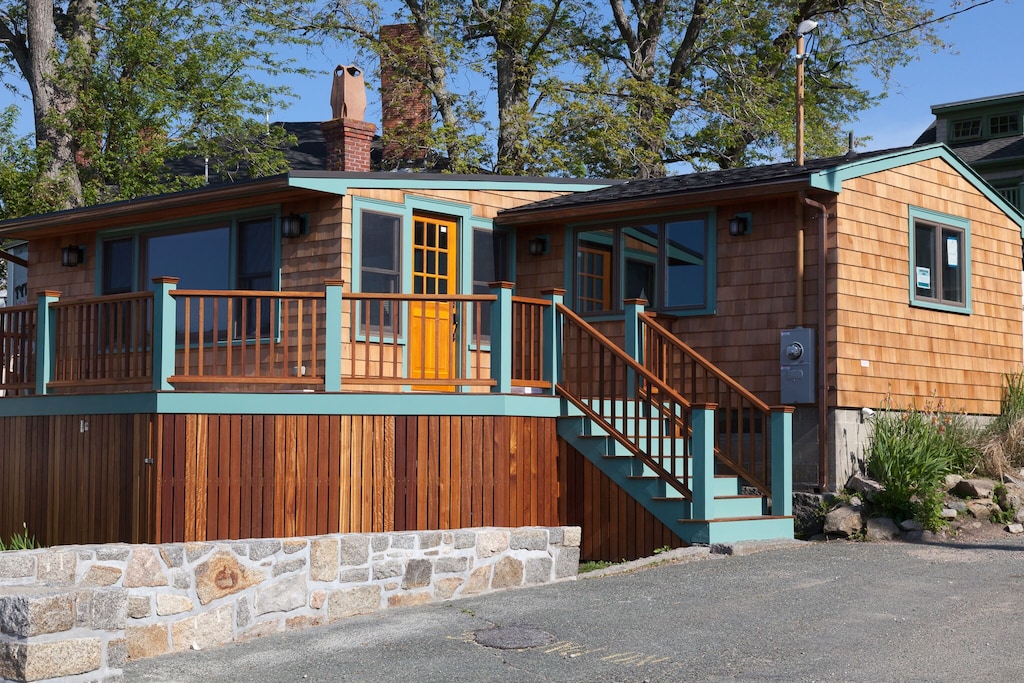 Rockport is an adorable seafront town in Massachusetts, known for its harbor and shopping. This cabin rental is a great stay in this perfect location. Facing the water, enjoy a large porch with a panoramic view of the bay. And in the other direction, you're just steps from the picturesque downtown area.
The cabin itself is modern and spacious, including a private patio and granite kitchen. It's newly renovated, meaning you'll be in a brand-new and luxurious cabin in one of the best spots in Massachusetts!
8. Cute Cottage with Private Beach
Location: East Sandwich, Massachusetts
Rates from: $250 per night
Accommodates: 5 guests
This adorable cottage is just steps from a private beach in East Sandwich, Massachusetts. Its interior is immaculately ocean-themed, complete with sea views from the windows! It has two bedrooms, a spacious living room, and a screened in porch. Plus, enjoy a full kitchen as well as washer/dryer.
Great for family and friends alike, anyone will enjoy this cabin. Have a perfect Cape Cod vacation on the 'shoulder' of this peninsula, great for exploring the rest of the area. Venture into the fun town of Sandwich, or dive deeper towards the Cape Cod National Seashore.
9. Cozy Cottage by the Massachusetts Coast
Location: Marshfield, Massachusetts
Rates from: $305 per night
Accommodates: 8 guests
Finding a place for a large family can be exhausting. But look no further than this perfect cabin! It is situated in a lively area right across from the beach. Keep everyone entertained within easy walking distance of the water as well as shops, restaurants, and nightlife. Nestled in the South Shore, it's also easily reached from Boston. And just a bit farther you can reach quintessential and historic Plymouth, Massachusetts for shopping and learning!
This cottage has everything you could ask for, including three bedrooms and a screened-in porch. There's even a nice walking path behind the cottage! It's spacious and popular, so it's sure to be fun for all ages.
10. Beautiful Beachfront Cottage on the Cape
Location: West Yarmouth, Massachusetts
Rates from: $985 per night
Accommodates: 9 guests
If you're really looking to make the most of your trip to Cape Cod, this is the cabin rental for you. This rental is huge. It has five bedrooms, two sitting rooms, a fully stocked library, and more! The entire interior is new, with marble and tile for days. And there are plenty of views overlooking the popular harbor, as this is one of the most popular spots on Cape Cod!
The closest beach is a 1-minute walk from the door, and a handful of others are only a short drive away. You can also access the cute town of Hyannis in a short walk. If you want to explore, Nantucket or Martha's Vineyard. Or if you'd rather stay close to home, entertain yourselves with a luxurious TV and sound system or a wide collection of board games!
Best Cabin Rentals in Massachusetts
These are just some of the best cabin rentals in Massachusetts – check out VRBO.com or Airbnb.com to see countless more in great locations all across the state. Whether you're looking for cozy or luxurious, mountain or sea, you won't be disappointed!
Looking for more unique stays in the US? Check these out!
– Unique Rentals in New England
– Coolest Places to Stay in the Berkshires
– Best Cabin Rentals in Vermont