This post may have affiliate links, where I receive a commission if you purchase through them. Here's our
Disclosure and Privacy Policy
for more info.
Looking to discover the best travel blog hosts in 2022? Read below to see the top web hosting providers for travel bloggers based on their prices and specifications.
Every year, I take a deep dive into the best hosting providers for travel blogs. Things are constantly changing and there's so much confusing (and conflicting) information out there. This can make starting a travel blog overwhelming and intimidating. In this article, I'll break down the hosting process in a simple and straightforward way to get you up and running in no time.
Some hosting providers are geared more towards food and lifestyle blogs, while others are a better fit for travel. So, what works for someone in one industry may not work for another. Choosing the right provider upfront among the best travel blog hosting sites will save you so much time and effort. This will leave you with more energy to focus on what you do best: sharing fun and interesting travel content.
During my review of the best web hosts for travel blogs, I look at all the different plans out there and the prices for each. I also examine the hosting speed, storage space, customer service, and other features. After testing out all the best web hosts for travel blogs, I decide on which one provides the best value for money.
Ready to find hosting for your travel blog? Here are the best web hosts for travel blogs that will give your readers the best possible user experience.
Read also: Tips for Starting a New Travel Blog
You may also like: Top Travel Bloggers to Follow in 2022
In a hurry? Here are the best web hosts for travel blogs in 2022
Best Overall: Bluehost – With its affordable pricing, top performance and reliability, and responsive customer service, Bluehost is the best hosting provider for travel blogs in 2022.
Top Host for Beginners: Bluehost – Basic plans are 50% cheaper than most competitors and include a free domain name and SSL certificate. The user interface is simple and easy to use, and the customer service is excellent.
Best Host for Experienced Travel Bloggers: BigScoots – This is the #1 hosting option for large travel websites. Their starter, professional, and business plans accommodate between 250k to 1.5 million monthly visitors.
Click here to save 60% off with Bluehost (begins at $2.95/month)
Analyzing the best web hosts for travel blogs
Before jumping into the top travel blogging hosts, I wanted to share the criteria I covered in my analysis. After all, when choosing a web hosting provider for your travel blog, there are so many factors to consider beyond the price. Here are some of the features and specifications that I considered when deciding on the best hosting for travel blogs.
Criteria to determine the best travel blog hosting
Storage space: The amount of room there is on the server to store your travel blog's content. How much storage space is provided by the host to accommodate all your content, images, plugins, and themes? How many visitors per month can your site accommodate?
Server caching: Hosts provide a dedicated server that stores site data. It's designed to speed up the webpages and reduce the overall bandwidth.
Uptime: Web hosts guarantee a certain percentage of the time that their service is working. For example, if a host has an uptime of 99%, it means that the web hosting service is expected to be down only 1% of the time (which is 3.65 days over the course of a year).
Customer support: How responsive is customer support staff and how can you contact them? For example: via phone, email or online chat.
Money back guarantee: Depending on which travel blog host you choose, you can cancel within 30, 60, or 90 days and be entitled to a full refund.
Hosting speed: Each hosting service has its own advantages and disadvantages in terms of website speed. Hosts for your travel blog may provide a shared plan or a dedicated host.
Website backups: Some hosting providers provide free backups as part of their service. This allows you to protect your work in case you get hacked or your website crashes. Site backups may occur on a regular basis (i.e. daily or weekly).
Free domain and SSL certificates: As part of the price of the hosting service, you can get a free domain and SSL certificate, which allows you to secure and encrypt your website.
The best hosts for travel blogs
Blog hosting is a very important yet overlooked part in creating a successful website. Now that we've covered some of the key considerations, we can determine which hosts have the best perks for travel bloggers. Here are the best hosting plans for travel blogs in 2022.
Overall best hosting provider for travel bloggers: Bluehost
In 2022, the best hosting site for travel blogs is Bluehost. It's cheap, easy to use, and is the most trusted, reputable provider in the industry. They offer many different types of plans that can accommodate all traffic levels. Shared hosting plans start at just $2.95 per month and you get access to 24/7 customer support and a free domain, SSL certificate, and Cloudflare CDN. If you don't like it, you get a 30-day money-back guarantee. According to most web hosting aggregator review sites, Bluehost has between a 4.7-4.9 rating (out of 5). This makes it among the best and most affordably priced hosting providers for travel blogs.
Click here to save 60% with Bluehost!
Top web host for beginner travel blogs: Bluehost
Bluehost allows beginners to get their travel blogs up and running immediately. The plans start at just $2.95 per month and the setup time takes less than 5 minutes. Small business and new travel bloggers will get all the hosting necessities, including 24/7 support, a free SSL certificate and domain name, a free email address, and an all-in-one dashboard (cPanel).
Bluehost is the #1 recommended hosting provider by Wordpress, so there is a seamless integration between the host and website builder. Whether you're seeking hosting for a travel, food, or lifestyle blog – Bluehost is the top web hosting provider right now in 2022.
Click here to save 60% with Bluehost!
Best hosting provider for big travel blogs and websites: BigScoots
BigScoots is the top hosting provider for travel sites and blogs that garner hundreds of thousands (or million) of users per month. It offers flexible, high-performance plans with a variety of features. Travel sites with lots of visual graphics tend to run faster on BigScoots than other competitors. Also, the customer service is top-notch.
With fast site speed, top performance, and reasonably priced services, BigScoots is the go-to web host for experienced travel bloggers.
Click here to save 40% with BigScoots!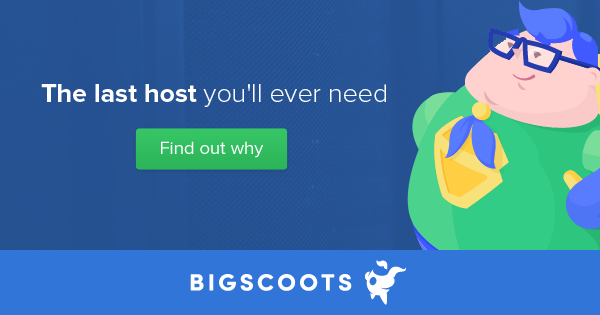 Frequently Asked Questions (FAQs) about hosting a travel blog
Where can I host a travel blog?
Aside from Bluehost and BigScoots, there are many other web hosts out there. This includes HostGator, Hostinger, Dreamhost, A2 Hosting, and SiteGround. Once you choose a travel hosting site, all you have to do is sign up and pay. Then, your site will be integrated with Wordpress and you can begin blogging.
What is hosting?
Think of hosting as a virtual space for your website. It's essentially a home for all your travel blog articles and files on the web. A hosting provider keeps your blog safe and secure on the internet.
Is there any free hosting for a travel blog?
Yes, there are many free hosting sites out there. This includes Wix, Wordpress, Medium, Tumblr, and Blogger. The only downside with free hosting is that it doesn't provide premium features that will make your travel blog competitive in the Google Search Results. Having a premium hosting provider will allow your travel website to perform better with Search Engine Optimization (SEO).
How do I choose a host for my travel website?
When evaluating the different kinds of web hosts out there, consider the price, size, and overall design. Here are some questions you can ask yourself:
1. What type of hosting plan is best suited for my site? Are you looking for a shared or private hosting plan? Would you prefer to host your content on the cloud, using a Virtual Private Server (VPS), or a dedicated server?
2. What features are you interested in? How important is website speed to you? Are you looking for a custom domain name and designated email address? How about an SSL certificate or CDN? What other tools are you looking for (website building tools and other blogging features)?
3. How much are you willing to spend? Free hosting will not get your travel blog to the next level. If you're able to spend $5-10 per month, you can get great value for your blog hosting. For $25-30 per month, you'll get access to premium hosting features.
Top travel blog hosting providers in 2022
Hope you enjoyed reading about these top web hosts for travel bloggers! Each year, the blogging landscape changes, and so do the prices and functionalities of these best hosting providers.
I always do my best to analyze these changes and provide recommendations on the best web hosts for travel sites. If you have any questions, feel free to send me an email using the contact form at the bottom of the page. Or shoot me a message on Instagram and I'll get back to you as soon as possible.
Happy Travels! -Jon